NYC Karaoke Party Buses
If you like to sing with friends, what better way to do it than on board our party buses. Bring your playlist and enjoy with your entire family and friends while traveling around New York City and visiting your favorite spots such as Long Island, Manhattan, Queens, or Brooklyn. Our extensive fleet has luxury party buses and other vehicles with the highest features for fun and entertainment. Whether you have a small or large group, we offer many options and packages for any kind of event in the Big Apple.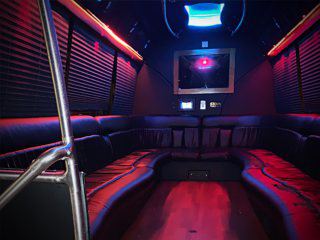 Tiffany Party Bus
Our Tiffany Party Bus is the perfect choice if you will celebrate or journey with large groups. This vehicle has a capacity for 30 passengers, but we have other options for fewer or more guests and have modern amenities like HDTVs, a removable pole, and more.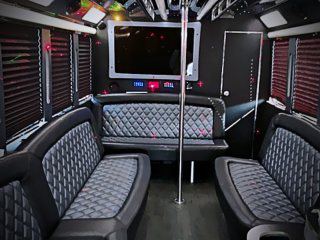 Executive Party Bus
If you are looking for a vehicle for your corporate events, we recommend our Executive Party Bus. Each passenger can enjoy the dance pole, hardwood flooring, a powerful sound system, flat-screen TVs, luxury bench seating, and a built-in bar area with coolers.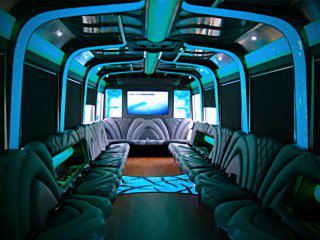 Luxury Party Bus
To celebrate your next event in style, don't miss the opportunity to know this car. Thanks to the dance floor, an amazing sound system, two massive LED screens, user controls, comfortable seating, and built-in bars, you and your whole group have a great time.
Book a limousine or party bus for any event
Our party bus services are perfect if you want to live a nightclub on wheels experience. A great way to celebrate a special occasion is with a party bus and limo because each car is designed for the enjoyment of everyone. We have a wide variety of options for your birthday party, sweet sixteens, wedding, and bachelorette parties. Besides, you will have everything you need at hand to realize the best party on your big day. Celebrate stress-free, and without thinking about renting an event room, party activities, and the expensive rates, our party bus rental has all included.
If you are looking for a fantastic plan to celebrate a special occasion like a birthday, wedding, or even year's eve with your buddies or loved ones, we recommend you make a trip to the most popular places in New York City in our party buses. Whether Long Island, Manhattan, Harlem, Bronx, Queens, Staten Island, or Atlantic City, we know the best spots to take you. Further, you will have a top-level experience in our luxury fleet equipped with modern amenities.
The fun will not be lacking in an NYC party bus! With the dance floor, a powerful sound system, LED screens, and laser lights, you can dance or make karaoke and sing your favorite songs. Also, if you are thirsty in the wet bars will find the best drinks to toast with your friends. However, we hope that you have a pleasant trip. For this reason, we have professional designated drivers who will pick up and drop you off safely and on time. We are attentive to answering your questions about our party bus rentals in New York City.
Karaoke on a party bus
We assure you that on a party bus in NYC, you will have a lot of fun and entertainment. Choose your favorite playlist and sing all the way with your closest friends. We help you have the best party and unforgettable moments on your special day.
Our party bus rentals & limo services in New York City
We have a large fleet with different and amazing vehicles for every event. If you are going on a trip to New York City or other places such as Atlantic City and Boston, our coach buses, charter buses, shuttle buses, and party buses are perfect, especially with a big group. But if you want to celebrate in a big way, you can do it with our all-inclusive limo service. Our selection of limousines included stretch limos, Hummer limousines, Sprinter vans, and Cadillac Escalade limos. Also, for your corporate events holds and business commitments, there are various options, whether an executive Sedan, SUV, or a luxury party bus and limo. Follow us through our website and find more information about our cars and party bus service.
---
Even more limousines and party buses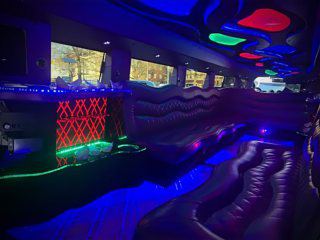 Hummer Limousine
If you need a vehicle that provides comfort and fun for every passenger, this limousine is what you need. You and your buddies will have unique moments on their trip through the city with the bars, disco flooring, and amazing sound system.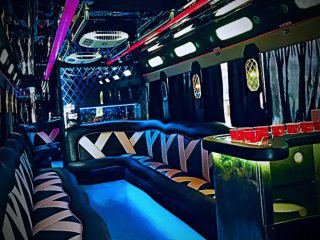 VIP Party Bus
Our party bus rental included a fantastic option like this vehicle. We believe that our VIP party bus will fill your expectations while enjoying modern amenities such as standing bars, a private area, laser lights, top-tier audio, and more.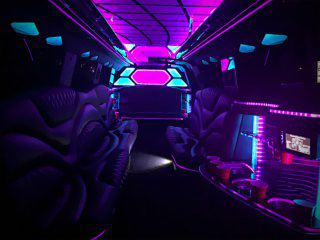 Cadillac Escalade Limo
To impress your guests, our stunning Cadillac Escalade is the right vehicle. In this limo, you can accommodate up to 22 passengers, travel comfortably, and have a lot of fun with the bars, disco lighting, powerful audio, leather seating, and user controls.