NYC Minibus Rentals
Are you preparing for a field trip with your friends, family, or sports teams? Our charter bus company has the transportation solution that you were looking for, and we have many choices for small, large, and medium-sized groups. With our mini bus and charter bus rental service, you will have a comfortable and reliable ride and visit popular destinations in NYC and out-of-town. Besides, each charter or mini bus has a professional driver and is equipped with many amenities and entertainment options, so you don't get bored while you reach your destination. If you need support to start planning, call us, and one of our planners and book specialists will help you and give you more information about our mini bus rental service and an instant quote.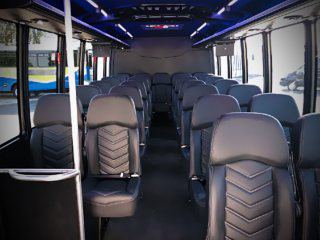 Grech Luxury Shuttle - 24 pass
This a perfect shuttle bus for medium-sized groups to journey comfortably in New York City. You can have unique moments with your entire group on board this vehicle with modern amenities like multiple monitors, a luggage room, an REI PA system, a panoramic front viewing window, and more.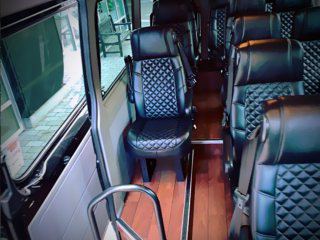 Mercedes Corporate - 14 pass
If you want to have a pleasant trip with small groups, we recommend you our Mercedes Corporate Sprinter. This car is perfect for traveling hassle-free for your corporate needs, like business meetings, airport transfers, or even sporting events.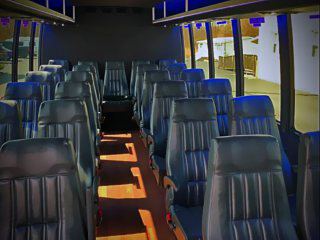 Grech Executive Shuttle - 27 pass
For larger groups, our minibus rental and this shuttle bus is a perfect choice! If you will look at the Big Apple or anywhere in NYC, don't miss the opportunity to do it in this car equipped with cars and coolers, bluetooth, user controls, and other luxury amenities.
To prepare for field trips is essential to have good charter bus and minibus rental services. Our charter bus company has a wide variety of bus models with the perfect size to cover all the transportation needs. We guarantee any NYC group will have a fantastic experience and stress-free travel. We have at your disposal a professional team to provide support during every step of the planning process for your journey. Also, our charter buses and mini buses have a designated driver with many years of experience driving through New York City and other places. If you need to coordinate your trip's details, itinerary, and bus rental plan, get in touch with our advisors, they will choose the perfect NYC charter bus for you.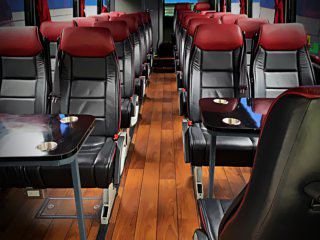 Grech Luxury Charter - 36 pass
If you need an NYC charter bus for medium-sized groups, this car will surprise you! Travel in style thanks to the luxury amenities such as plush high-back reclining seats, swan overhead luggage with blue mood lighting, wood floors, front tables, and more.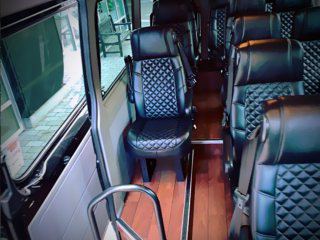 Temsa Luxury Shuttle - 40 pass
Do you want to travel relax and comfortably for your next long-distance trip? If so, our Temsa Luxury Shuttle is ideal for full-size groups, where each passenger can enjoy fold-down TVs, wood floors, tables, and plenty of entertainment.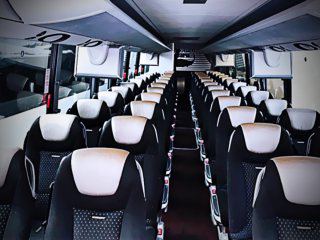 Setra Motor Coach - 56 pass
We assure you that have a great time on this coach bus and stay entertained all the way. This vehicle has high back reclining seats, luggage space, power outlets, large flat screens, reading lights, point seat belts, footrests, and even a professional driver.
Our amazing fleet of charter buses & mini buses
Our charter bus company has the right vehicle for your group travel, and we will help you to organize seamless transportation for any event. Whether to make a tour of New York, NY, or celebrate a special occasion such as birthday parties, prom nights, make a long distance trip with sports teams, or even new year's eve, you will have a big day with our minibus rental. We were hoping you could relax and rest easy knowing that you will travel in a reliable vehicle and have a professional bus driver who will take your destination sure and on time. Our minibus rentals are much more comfortable than public transportation. Besides, the last thing you have to worry about is the busy streets or finding parking because the designated chauffeur will take care of that.
We assure you have enjoyable moments with our charter bus and minibus rental during your NYC trip thanks to a designated professional driver and modern amenities like WIfI, power outlets, flat-screen TVs with DVD player, luggage bays for your personal belongings, onboard restroom, air conditioning, user controls, bluetooth, comfortable reclining seats, bars and coolers, outstanding sound system, front tables, privacy windows, top LED lighting, folding footrests, and more. Don't wait until the last minute to hop aboard the best charter bus and minibus rental in New York. Our charter bus company and minibus rental service have many options available for any group transportation in New York City.
---
Visit New York City with our minibus rental service
Are you looking for great spots to visit while traveling to New York? This city is a popular destination and every year receives millions of tourists. We give you a couple of recommendations to do in NYC. In Central Park, you can make a walking tour to enjoy the beautiful views, lakes, waterfalls, meadows, wooded areas, and other attractions that you will find in this park. Very close is the American Museum of Natural History, where you will learn more about the natural world and the universe, additionally, you can go to the planetarium or the library in this place. Also, in the Bronx Zoo, you can enjoy yourself with the children while seeing and learning more about the wildlife, and then near the city, you will watch the sunset and views over the Hudson River or Niagara Falls State Park. If you are in Lower Manhattan, you can take a ferry ride and get a closer look at the Liberty National Monument or walk through Hell's Kitchen neighborhood and visit the famous restaurants and bars. Our charter bus company will accompany you while you journey to New York, NY, with the best minibus rental in the town and professional bus drivers to attend to you.
The services of our charter bus company are also available in Brooklyn, Bronx, Harlem, Long Island, Staten Island, Manhattan, Queens, and other locations in the Tri-State area. If you need a charter bus or mini bus and a professional driver for your events with small, large, or medium-sized groups, contact us, and we will give you more information about our vehicles and charter bus and minibus rental services.